Office Hours
9:00am - 5:00pm
9:00am - 5:00pm
10:00am - 6:00pm
10:00am - 4:00pm
By Appointment Only
By Appointment Only
Nitrous Oxide Sedation – Garland, TX
Reducing Anxiety for Positive Experiences
When nerves get the best of your child, it can make visiting the dentist's office much more challenging. Dental anxiety is real, and millions of people suffer from it, often resulting in missed and canceled appointments. Even though your little one may be apprehensive about their upcoming visit, it is necessary they get the treatment they need to avoid more serious oral health problems like cavities, tooth decay, and gum disease. Dr. Lily is a board-certified pediatric dentist who understands the fears a child might have when stepping inside a dental office. This is why she is pleased to offer nitrous oxide sedation in Garland to help minimize fears and promote a relaxing and positive experience. If you believe your child might benefit from this type of treatment, contact us today to schedule an appointment.
What is Nitrous Oxide?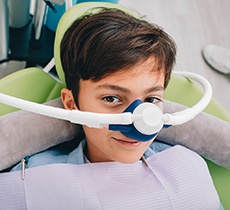 Also referred to as "laughing gas," nitrous oxide is considered to be the mildest form of sedation and is an ideal solution for children who experience dental anxiety. The mixture of nitrous oxide and oxygen is odorless and colorless, so your little one will have no problems inhaling the contents and experiencing a relaxed, comfortable visit.
Its immediate effects allow Dr. Lily to begin treatment and work more efficiently and effectively, ensuring your child's smile is in optimal shape.
How Nitrous Oxide Works
When administering nitrous oxide, a pediatric dentist in Garland will place a small mask over your child's nose and encourage them to breathe in the nitrous oxide and oxygen solution. In no time at all, they will become much more relaxed. Some of the most common sensations and feelings patients can expect to experience include:
Light-headedness
Dream-like state
Feeling as if they're floating
Sleepiness
Although your child may look as if they are asleep, they will actually remain cognizant and be able to respond to the cues of our dental team. Once the solution is turned off, the effects will begin to immediately dissipate, allowing them to return to school or resume normal activity following their appointment.
What Are the Benefits of Nitrous Oxide?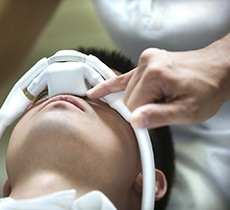 In choosing nitrous oxide sedation for your child's next appointment, you can expect there to be many great benefits that come with this type of treatment, such as:
It minimizes dental anxiety, allowing your child to have a positive experience while visiting the dentist's office
Its effects do not linger or cause extended drowsiness
It is completely safe and effective for young patients
Your child will remain fully conscious throughout the treatment
It helps to reduce sensitive gag reflexes