Office Hours
9:00am - 5:00pm
9:00am - 5:00pm
10:00am - 6:00pm
10:00am - 4:00pm
By Appointment Only
By Appointment Only
Teething – Garland, TX
Easing the Pain for Both You and Your Baby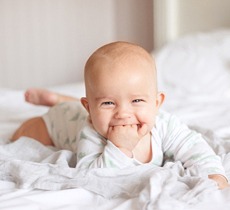 If your little one is crying, drooling, appears irritable, and is sleeping less, they are experiencing a normal process all children must go through – teething. At Shiny Smiles Pediatric Dentistry, Dr. Lily and her team of experts understand this can be a trying time for both you and your baby. Fortunately, she can provide helpful tips, techniques, and solutions that will help minimize the pain while your child's baby teeth work their way through the gum line. If you would like to schedule an appointment with our pediatric dentist in Garland and discuss ways to help your little one through the teething process, contact us today.
The Teething Process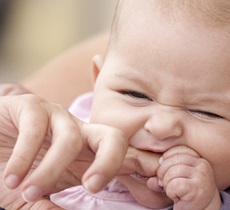 If you're unsure what to look for to know if your baby is teething, the following signs will be clear indicators:
Trouble sleeping
Developing a facial rash
Excessive and frequent drooling
Loss of appetite
Irritable
Rubbing their cheeks or pulling their ears
Biting or gnawing their hands
Children are born with 20 primary teeth, all of which are awaiting their turn to erupt. Between the ages of 6 months and 3 years, these teeth will push through their gums and remain in place until it is time for them to fall out.
As these baby (primary) teeth work their way toward the surface of the gums, it placed pressure on the soft oral tissue, causing discomfort. While some babies present few, if any, symptoms of teething, others (and most) babies express their pain by crying, forgoing meals, and even chewing on their hands.
Ways to Alleviate Pain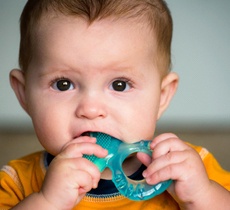 As a parent, it can be extremely difficult to watch your baby go through the teething process, which is why it's important that you speak with a dentist for infants in Garland who can recommend helpful tips and products to better navigate this trying time.
Some of the most beneficial solutions for teething include:
Using your finger, make sure it is clean and massage your baby's gums gently. This will apply a small amount of pressure to the area and help your little one become more relaxed.
Offer your baby a solid teething toy, not one that is liquid-filled. When biting down, it will help relieve the discomfort and give them something safe to chew on.
Placing a teething ring or another type of teether in the refrigerator can help keep it cool and numb your baby's gums, temporarily relieving any pain that comes along with teething.
Allow them to eat soft, pureed foods (only if they are old enough)
While there are many products on the market that claim to "work wonders" for a teething baby, make sure you avoid any ointments or special solutions that contain benzocaine. This substance can be toxic to babies.
How We Can Help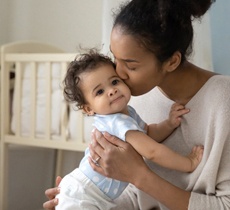 Dr. Lily is not only a board-certified pediatric dentist, but she is also a mother who understands the pains and trials of teething. When coming to her for help with your little one, you can trust that she is providing information and tips that are useful and effective. Whether it is proposing specific techniques to help soothe their gums or teething rings to pacify the pain, she will provide you with her own personal recommendations to help you and your baby work through the process.