Office Hours
9:00am - 5:00pm
9:00am - 5:00pm
10:00am - 6:00pm
10:00am - 4:00pm
9:00am - 1:00pm
By Appointment Only
Dentistry for Teens - Garland, TX
Bright, Happy, Healthy Teeth for Teens 13 to 19
Teenagers may start to seem all grown up as they juggle friends, grades, and college applications, but they definitely still have a place at Shiny Smiles Pediatric Dentistry. Dr. Lily is happy to work with children all the way up to the age of 18 in order to support their fully adult teeth and help them continue smiling confidently.
It's important for parents to remember that because of their busy schedules, teenagers may start to let their oral hygiene fall by the wayside. Our team recommends that you check in with them regularly to ensure they're brushing and flossing as needed. Whenever they're in our office, you can expect Dr. Lily to provide age-appropriate checkups and cleanings and recommend treatment as needed. We offer several teen-friendly services that can make a big positive difference, including dedicated oral cancer screenings, tooth-colored fillings, SDF Treatments, and more. Contact us today in Garland, TX to get started!
Dental Checkups & Cleanings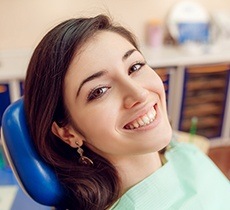 While your family's schedule is surely busy, it's important to still find time for teenagers to visit their pediatric dentist. These regular appointments give our team the chance to better understand your loved one's current needs, pinpoint any concerns, and gauge the effectiveness of their current oral hygiene habits. Additionally, a cleaning will scrub away any built-up plaque and bacteria, leaving their smile feeling refreshed and porcelain smooth.
Learn More About Dental Checkups & Cleanings
Dental Sealants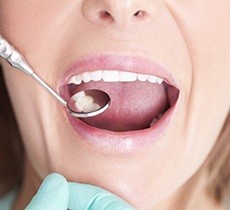 Here's an interesting fact for you – four out of five cavities in young patients occur in the back teeth. These teeth (also known as the premolars and molars) have wide chewing surfaces with tricky pits and grooves, which food particles and infectious bacteria can easily nestle in. Even teenagers can still miss these areas of their smile while brushing and flossing, which is why Dr. Lily may recommend the placement of dental sealants. These are thin, plastic-based seals that quickly harden in place over the teeth. They will block out decay-causing agents, reduce the risk of decay, and keep your teen happy and healthy for years to come.
Oral Cancer Screening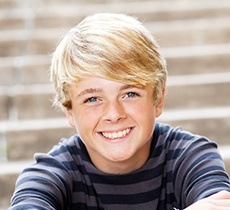 Oral cancer is rare in young patients, but it's still a dangerous possibility that parents should be aware of. That's why our team will perform a dedicated oral cancer screening for teenagers as part of their regular checkups. After taking a close look at the oral tissue for signs of strange sores, lumps, crusts, or discolored spots, Dr. Lily can determine if there is anything worrisome that may require further diagnostic care. Above all else, your loved one's safety is our top priority!
Fluoride Treatments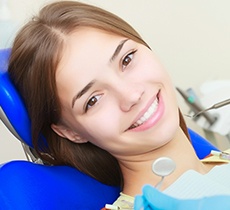 Fluoride is a natural mineral that can have big positive effects on oral health over time – in fact, studies show that children who grew up drinking fluoridated water tend to have stronger tooth enamel and fewer instances of cavities than those who did not. While regular fluoride treatments are most effective on younger children, teenagers can still reap valuable benefits from these quick and easy applications during their regular checkups and cleanings.
Dr. Lily also offers Silver Diamine Fluoride (SDF) treatments, which is specifically used to help teeth recover from cavities and preserve their remaining structure.
Learn More About Fluoride Treatment
Nightguards/Sportsguards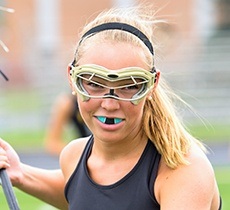 At Shiny Smiles Pediatric Dentistry, we are always happy to provide modern, custom-made oral appliances when our teenage patients need them. For instance, if bruxism (teeth grinding) is a serious concern, a nightguard can be worn while sleeping to protect the vulnerable teeth and keep the smile intact. Sportsguards are also available for athletes who need that extra protection during the big game – and it will help their parents rest easy on the sidelines, too.
Tooth-Colored Fillings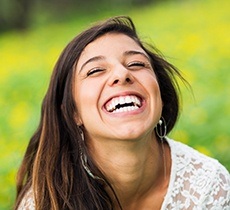 We do everything in our power to help patients stay cavity-free throughout the years – but unfortunately, they can still pop up here and there. If your teenager is in need of a filling, rest assured that Dr. Lily doesn't use traditional amalgam metal. Instead, tooth-colored composite resin is precisely matched to your teen's natural smile and then carefully sculpted into place so that it's like the damage never happened at all. Because of the metal-free structure, this type of filling is also much more comfortable.
Pulp Therapy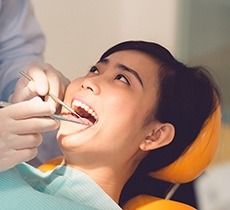 Is your teen complaining about persistent pain in a specific tooth? A serious infection may be raging underneath the enamel that needs our immediate attention. Here in Garland, Dr. Lily can perform pulp therapy, which involves accessing the tooth's inner pulp and removing the diseased portions while leaving any healthy structure safely intact. Our goal is to help a patient avoid the need for extraction while also relieving their harmful symptoms as quickly as possible.
Extractions
Tooth extraction is never a service that Dr. Lily recommends lightly. However, there are dire situations where it's the best choice available for our patients' continuing oral health and wellbeing, such as:
When advanced tooth decay is present
When there's been a traumatic dental injury
When the child is in need of orthodontic treatment and extra room must be made in the mouth
Our team will do everything they can to help teenagers stay comfortable throughout this procedure, and several effective sedation techniques are available as needed to create a safe and relaxing atmosphere.