Office Hours
9:00am - 5:00pm
9:00am - 5:00pm
10:00am - 6:00pm
10:00am - 4:00pm
By Appointment Only
By Appointment Only
Sedation Dentistry for Kids - Garland, TX
Enjoy a Safe, Relaxing & Efficient Visit with Dr. Lily
The dental office can be a bit of an intimidating place for a child, between the new sights, sounds, smells, and faces. At Shiny Smiles Pediatric Dentistry, we do our best to ensure that a child has a positive dental experience from their very first appointment so their visits are always nice and calm. However, if your child is afraid of the dentist, or if they have mental or physical special needs that make getting routine care difficult, then sedation dentistry is how we can help. With the safe and proven techniques listed below, we can guarantee that even the most fearful child has a relaxing and fulfilling dental experience every time. To learn more about your child's sedation options, contact us today.
Nitrous Oxide Sedation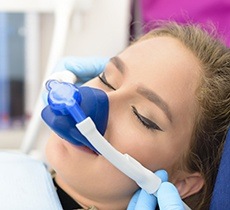 This is the gentlest form of sedation we offer, and it's perfect for children who need just a little help with their dental nerves. They'll simply breathe in a colorless, odorless gas through a small nasal mask, and within moments, any tension they might feel will seem to disappear. And, once the appointment is over and the mask is removed, the gas' effects completely wear off within minutes, enabling your child to go straight back to their day without any lasting drowsiness.