Office Hours
9:00am - 5:00pm
9:00am - 5:00pm
10:00am - 6:00pm
10:00am - 4:00pm
By Appointment Only
By Appointment Only
Dental Sealants – Garland, TX
Protecting Little Teeth from Decay and Cavities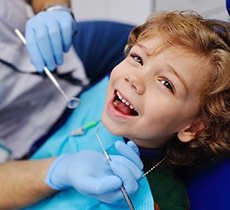 Are you ready for a shocking statistic? According to the National Institute of Dental and Craniofacial Research, 42% of children between the ages of 2 and 11 have had cavities. So, it's safe to say that decay is a rampant issue among kids today. Fortunately, dental sealants are a safe, effective way to protect your little one's teeth! Contact our office today to learn more and schedule your child's appointment.
Why Choose Shiny Smiles Pediatric Dentistry For Dental Sealants?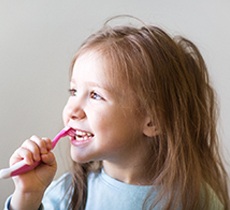 Experienced Team Trained on Children's Unique Dental Needs
Board-Certified Pediatric Dentist
The Best Technology for The Best Experience
What Are Dental Sealants?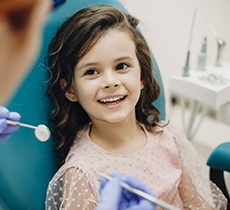 Between popular sugary beverages and their novice brushing techniques, it's not hard to see why children are vulnerable to decay and cavities. That's where dental sealants come in! This invisible, resin-based solution is applied to the biting surface of their teeth to prevent plaque, bacteria, and acids from eating away at their enamel. That way, their teeth are protected as their enamel strengthens and their oral hygiene routine is perfected.
When Should Children Get Dental Sealants?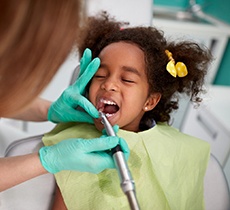 Since children are at the highest risk of decay between the ages of five and 14, the American Dental Association recommends getting them then. Typically, this is done in phases until all their back teeth come in. So, they will get sealants when their first pair of molars come in (between five and seven), and again when their second set comes in (between 11 and 14). Don't worry, our children's dentist in Garland, Dr. Lily, will monitor your child's changing smile at their biannual appointments and make recommendations on when to start based on their unique needs.
How Are Dental Sealants Placed?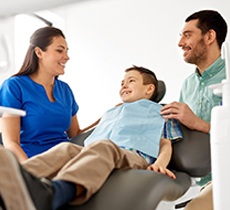 Thanks to Dr. Lily's extensive training, placing dental sealants is quick. To begin the process, she will thoroughly clean your child's teeth to remove any lingering food particles or debris. From there, she will apply the resin-based sealant to every nook and cranny of the chewing surface of their teeth. Lastly, a special curing light is used to harden the sealant in place, and the invisible protective barrier is set!
Are Dental Sealants Covered by Dental Insurance?
Depending on the details of your dental plan, the answer may be yes! Therefore, don't hesitate to contact your insurance provider directly to check what is and isn't covered. And, of course, if you have any questions or need any help understanding your benefits, we'd be happy to help.
Dental sealants for children are a safe, effective way to protect your child's smile now and for years to come. If you would like to schedule an appointment for your son or daughter, contact our office today.