Office Hours
9:00am - 5:00pm
9:00am - 5:00pm
10:00am - 6:00pm
10:00am - 4:00pm
By Appointment Only
By Appointment Only
Dentistry for Infants - Garland, TX
Helping Babies Get Comfortable with the Dentist
Many parents assume that regular dental care isn't important until their child has a complete smile – but this isn't true at all! Dr. LIly recommends that you schedule an initial visit by their first birthday, or whenever a baby tooth pushes through the gums. This may seem early, but dedicated dental care for infants is important. By meeting our team at a very young age and getting used to the sights and sounds of our practice, your son or daughter should feel much more comfortable and at ease here as they grow. Better yet, we can catch any potentially serious dental problems right away.
During your baby's early appointments, Dr. Lily will stick to simple, gentle checkups of the baby teeth and developing gum tissue. She can also provide detailed instructions for at-home care, including a demonstration on how to properly clean the gums with a washcloth, recommendations for baby-friendly toothbrushes, and more. Are you ready to get started? We can't wait to meet you and your little bundle of joy here in Garland, TX – contact Shiny Smiles Pediatric Dentistry today!
Oral Health Risk Assessment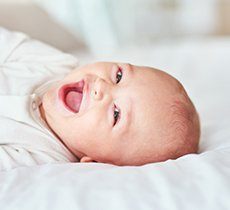 We strongly believe that an ounce of prevention is worth a pound of cure. That's why Dr. Lily recommends that your infant undergoes an oral health risk assessment with our team. During this visit, we can determine their personal risk for tooth decay, pinpoint any potential developmental concerns, and ensure that parents have all the information they need to care for their loved one's oral health at home. These short, periodic visits before regular checkups begin can go a long way!
Teething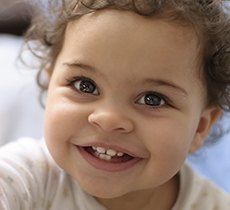 Is your infant sleeping less and seeming more irritable on a day-to-day basis? These are common indications of teething. The process of the primary teeth pressing up through the gums can be a frustrating and uncomfortable experience for young children, but there are ways for parents to improve the situation. Dr. Lily will be happy to offer you her personal recommendations during a visit, which may include the use of moist gauze pads, teething rings, gentle rubbing, and more.
Fluoride Treatments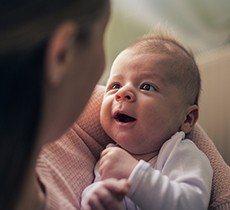 Fluoride is a natural mineral that has been shown to positively benefit growing smiles through safe exposure. In fact, children who grow up with this exposure tend to have stronger teeth and fewer instances of cavities on average than their not-so-lucky counterparts. Fluoride supplements can be provided to infants during regular visits to boost their oral health.
If they fall victim to tooth decay on their baby teeth, Dr. Lily also offers Silver Diamine Fluoride (SDF) Treatment, an antimicrobial liquid that is painted onto the tooth surfaces in order to stop tooth decay and harden the tooth structure.
Learn More About Fluoride Treatment
Non-Nutritive Habits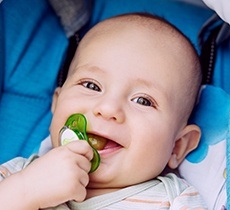 It's very common for infants to start sucking their fingers and thumbs over time – it's a reflex that helps them feel safe and comfortable. While these behaviors shouldn't cause concern at this early stage of life, it's still important for parents to know about the potential pitfalls that can occur if this habit continues into the toddler years.
The natural position of the jaw and teeth can be negatively altered, resulting in oral dysfunction that may need to be corrected with orthodontic treatment down the road. Thankfully, Dr. Lily can discuss this matter with you in greater detail during a visit, answering questions and providing helpful tips on how to discourage thumb-sucking early on. Positive reinforcement is best!