Office Hours
9:00am - 5:00pm
9:00am - 5:00pm
10:00am - 6:00pm
10:00am - 4:00pm
By Appointment Only
By Appointment Only
Athletic Mouthguards – Garland, TX
Protect Your Child's Smile from Harm
It's awesome watching your child excel at a sport that they are passionate about. However, just like any type of athletic activity, there are some risks involved. Children who play sports are at risk of dental injury, but this doesn't mean that they should give it up. By opting for a customized athletic mouthguard, your child can enjoy playing their favorite sports, and you don't need to worry about the well-being of their smile. Give us a call to learn more about customized athletic mouthguards and to schedule an appointment for your child.
What Are Athletic Mouthguards?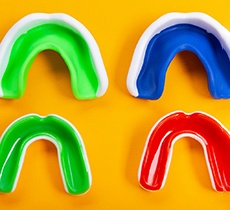 Athletic mouthguards are oral appliances that are worn in the mouth to protect the upper arch of teeth. Since the top arch protrudes more than the bottom teeth, your child's upper teeth are vulnerable to injury, especially for those who are involved in contact sports. By taking impressions of your child's teeth and using high-quality materials to craft a comfortable mouthguard personalized for their unique smile, you'll have one less thing to worry about when they're on the field.
Why Is an Athletic Mouthguard Needed?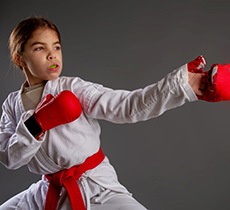 Sports-related injuries are very common, especially for children and teenagers. Custom mouthguards are a common and effective way to prevent teeth from becoming broken or fractured. If your child is engaging in sports or other outdoor physical activities, wearing a mouthguard can be beneficial to avoid a dental emergency in the future.
Custom Mouthguards vs. "One-Size-Fits-All"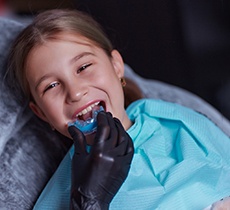 It may be tempting to just pick up a generic mouthguard from your local drugstore, but this isn't the best option. Here are some of the benefits of choosing a custom-made athletic mouthguard from your child's dentist instead:
A custom mouthguard provides a perfect fit for your child's teeth and gums, unlike the one-size-fits-all appliances you find over the counter.
Most children find custom mouthguards to be more comfortable and are more likely to wear them.
The improved fit means better protection for the mouth as a whole.
Custom mouthguards tend to be more durable, so they end up being more cost-effective in the long run.