Office Hours
9:00am - 5:00pm
9:00am - 5:00pm
10:00am - 6:00pm
10:00am - 4:00pm
By Appointment Only
By Appointment Only
Fluoride Treatment – Garland, TX
Protecting Young Teeth from Tooth Decay
Tooth decay can develop starting at an early age. If your child doesn't practice good oral habits at home, this could be problematic for their teeth and gums, especially when it comes to cavities. To protect their teeth from harmful bacteria, Dr. Lily, a pediatric dentist, recommends a fluoride treatment. This quick and painless application will serve as a barrier, keeping bad bacteria out and encouraging strong tooth enamel.
How Does Fluoride Work?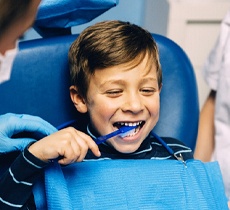 If you want to combat cavities, there is no better option than fluoride. This natural substance helps to strengthen tooth enamel and fight off harmful bacteria and acids in the mouth. Oftentimes, children don't eat the healthiest foods or drink the most beneficial beverages, which means their teeth are exposed to sugar and bacteria. If this happens too often and proper brushing is avoided, the bacteria will slowly wear through the enamel of your child's teeth. This will create small holes, also known as cavities.
By administering a fluoride treatment, you can prevent this type of bacteria from penetrating the various layers of your child's teeth.
What Can My Child Expect?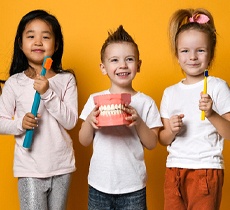 If your child is scared about the idea of having a fluoride treatment, we will work with you to remind them there is absolutely nothing to be afraid of. Fluoride treatments are quick and painless, making it a pleasant experience for your little one.
Once their teeth are cleaned, your pediatric dentist will apply a fluoride varnish to their teeth. It will quickly dry, but your child should not plan to eat or drink anything for about 20 minutes after it is applied.
Promote a Cavity-Free Smile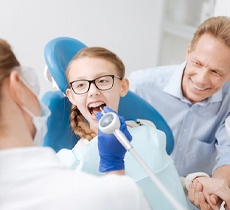 Unfortunately, fluoride treatments are just one aspect of maintaining a healthy smile. Your child will need to practice a few other habits in order to keep their teeth cavity-free. To help them, here are a few tips:
Opt for water with fluoride in it instead of fruit juices or sodas
Discuss dental sealants with Dr. Lily
Make sure they are brushing their teeth twice a day for two full minutes
Have your child use a soft-bristled toothbrush and fluoride toothpaste
Encourage your child to floss at least once a day
Limit their exposure to foods and drinks that contain sugar
Make sure to take them to see their pediatric dentist twice a year
Schedule an Appointment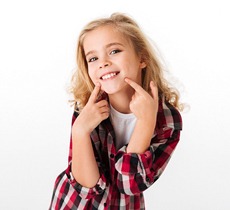 Dr. Lily and her team are dedicated to helping your child maintain a healthy smile, so if you're searching for a "pediatric dentist near me," look no further than Shiny Smiles Pediatric Dentistry. Contact us today to schedule an appointment.
Fluoride Treatment FAQs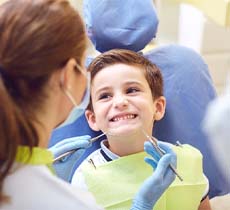 Fluoride treatments are a great way to protect your child's smile from cavities in the future, but you may still have some unanswered questions. Here are the answers to some of the most common queries we receive about children's fluoride treatments in Garland. If you don't see the information that you're looking for below, don't worry! Give us a call and we'd be happy to answer your questions.
What Is Fluoride?
Fluoride is a mineral that is helpful in preventing tooth decay. You can find fluoride in most drinkable water, including everything from natural water sources to foods like seafood, soups, potatoes, and grapes. Fluoride is so safe and effective at preventing cavities that it's even added to most tap water, which studies suggest lowers cavity rates by 25%. You'll also find fluoride in most dental hygiene products, such as toothpaste and mouthwash.
What Are the Benefits of Fluoride?
Fluoride works by restoring minerals to tooth surfaces where bacteria has eroded the enamel. The earlier that children are exposed to fluoride, the less likely they are to develop cavities. In fact, a large study by the Cochrane Oral Health Group has found that children who received fluoride treatments for one year were 43% less likely to have tooth decay and cavities. While fluoride is unable to remove decay, it can help to stop it from penetrating into deeper parts of the affected teeth.
Is Fluoride Treatment Covered by Dental Insurance?
In most cases, fluoride treatments for children are considered preventive care and receive 90-100% coverage from most dental insurance plans. However, it is a good idea to double check with your insurance provider so you know exactly what you can expect. We proudly accept numerous popular dental insurance plans and are happy to answer questions you have about your benefits.
Are There Any Risks Associated with Fluoride Treatments?
Fluoride is a natural mineral that is perfectly safe when used as directed. But, when used in excess, it can lead to fluorosis, which causes tooth discoloration and issues with bone homeostasis. When administered by an experienced dentist, fluoride treatments are completely safe and harmless.