Office Hours
9:00am - 5:00pm
9:00am - 5:00pm
10:00am - 6:00pm
10:00am - 4:00pm
9:00am - 1:00pm
By Appointment Only
Child's First Visit – Garland, TX
Giving Kids a Positive Dental Experience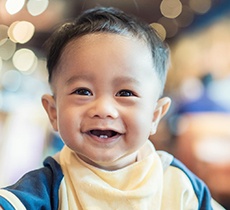 For our team at Shiny Smiles Pediatric Dentistry, it's never too soon to start thinking about your child's long-term well-being. Just as you take them to their pediatrician for health checkups on a regular basis, now is the time to start coming to our pediatric dentist. We can't wait to welcome you and your child into our dental family! Keep reading to learn more about your child's first visit with us and how we can help them smile for a lifetime. Then contact us to schedule a visit!
When Should You Start Bringing Your Child to the Dentist?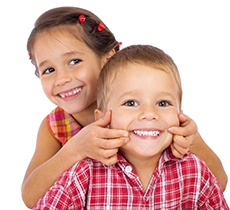 We encourage parents to begin regular dental visits early on in your child's life. These appointments while they're young may only include a quick oral exam, but they are still very valuable for developing lifelong healthy habits. Plus, your little one can become familiar with our team and our office environment, helping them feel more comfortable and at ease in the chair. As an added bonus, you can ask Dr. Lily questions about your child's oral development and how to keep their smile strong at home.
What Can You Do If Your Child Is Afraid of the Dentist?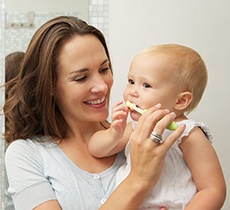 At Shiny Smiles Pediatric Dentistry, we want every patient to feel completely safe and relaxed in our Garland office. We strive to create a welcoming, friendly environment to reassure families, which is why a parent is allowed to stay in the room during the appointment. We also encourage parents to practice good dental hygiene at home (i.e., brushing and flossing every day) with them so that children learn the importance of a healthy smile.
Tips for a Positive Experience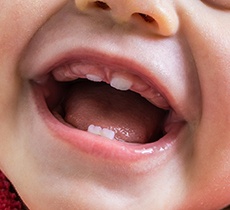 Although our team will do everything we can to make sure your child can look back on good memories with the dentist. That way, they will be more likely to continue going through adulthood, increasing their chances of optimal oral health and overall well-being as they grow. Here are some ways you can make dental visits with us more pleasant for your little one:
Start dental visits around the time your child turns one year old.
Schedule the appointment for a time in the morning, when they're more likely to be well rested and cooperative.
Talk positively about upcoming dental visits, even your own.
Avoid using scary words like shot or needle.
Do not offer a bribe for "being brave" during the dental visit or use the appointment as a punishment or threat.