Office Hours
9:00am - 5:00pm
9:00am - 5:00pm
10:00am - 6:00pm
10:00am - 4:00pm
9:00am - 1:00pm
By Appointment Only
Dentistry for Toddlers - Garland, TX
Gentle, Caring Touch for Children Ages 2 to 8
The "Terrible Twos" can be a tricky time for parents. Suddenly, your adorable baby is starting to speak and develop their own uniquely rambunctious personality, not to mention plenty of extra energy. Getting them to sit still for brushing and flossing can feel like a battle every day, but stay strong – your pediatric dentist, Dr. Lily, can help!
At this age, our team will be transitioning toddlers to proper checkups and cleanings and starting to give them their own special lessons about practicing oral hygiene at home. As all of the baby teeth settle into place, helping them develop good habits and protecting them from cavities is more important than ever. We strongly recommend the parent help your child with brushing until your child has the dexterity to handle a toothbrush. Dr. Lily will also be keeping a close eye on any developmental issues that may need early intervention during their regular appointments. Contact Shiny Smiles Pediatric Dentistry in Garland, TX today to schedule a visit or if you have any questions.
Dental Checkups & Cleanings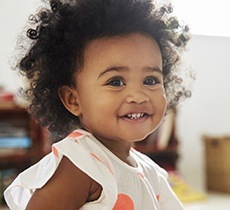 Once your child reaches their toddler years, it's time to commit to two checkups and cleanings every year. During these visits, Dr. Lily will gently review every aspect of their oral health, from the surfaces of their baby teeth to their gum tissue to their overall bite and jaw. Our goal is to gather as much information as possible so that we can recommend any necessary treatment to you (the parent) with total confidence.
Dental Sealants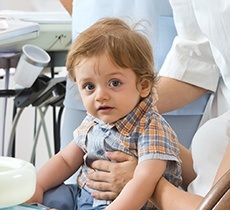 When first learning how to brush and floss, it's very likely that toddlers' little arms may find it hard to reach far back into their mouth! That's why dental sealants are such an important preventive tool. The process is simple – our team will paint the plastic-based sealants directly over the pits and grooves of the teeth and harden them in place. This is completely painless and will only take a few minutes. Sealants will do a great job of blocking out food and cavity-causing bacteria, and they can last for several years at a time.
Fluoride Treatments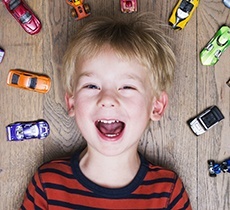 Fluoride is a mineral that can be found all around us – in the foods we eat, the water we drink, and countless oral hygiene products on store shelves. This is for a good reason, though. Years of research have demonstrated a clear link between regular, safe exposure to fluoride and stronger, healthier teeth. This exposure is especially important for young children with smiles that are still developing. If Dr. Lily determines that your toddler could benefit from a little extra fluoride, she can provide safe and easy supplements during regular checkups.
Silver Diamine Fluoride (SDF) is also available, which can help teeth recover much more successfully after experiencing cavities.
Learn More About Fluoride Treatment
Pulp Therapy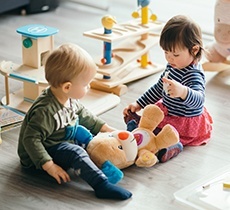 Every tooth – whether it's the baby version or the adult version – contains a soft center at the core that's filled with pulp, nerves, blood vessels, and tissues. In young children, these components are working overtime to ensure that the tooth grows up strong and receives important nutrients, which is why a harmful infection or injury is so dangerous. Instead of removing the tooth, Dr. Lily may recommend pulp therapy as a safe and successful alternative.
Pulp therapy is essentially traditional root canal therapy with a child-friendly twist – our team will preserve as much of the remaining healthy pulp as we possibly can so that their dental development will safely continue.
Extractions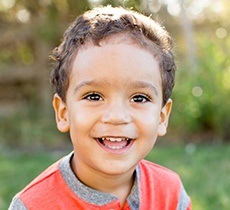 In a perfect world, Dr. Lily would never have to remove a baby tooth before it's able to fall out naturally. However, there are situations where this service might become necessary for your toddler in order to protect their oral health and keep them smiling. For instance, a tooth may suffer a serious injury, develop advanced decay, or overstay its welcome when a permanent tooth is trying to take its place. Don't worry – our pediatric practice offers sedation dentistry in order to make this treatment process as calm and comfortable as possible.
Non-Nutritive Habits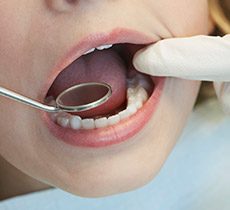 Regularly sucking the thumbs and fingers is innocent enough in a baby, but toddlers who are still stuck on this bad habit can start to cause real, long-lasting harm to their developing smile by the age of four. Please let Dr. Lily know if your son or daughter fits into this category – she can provide valuable information and guidance on how to stop the cycle in a gentle and positive way.