Office Hours
9:00am - 5:00pm
9:00am - 5:00pm
10:00am - 6:00pm
10:00am - 4:00pm
9:00am - 1:00pm
By Appointment Only
Pulp Therapy – Garland, TX
Preserving Damaged Teeth
When your child has a toothache, your heart goes out to them — and so does ours. We hate to see little ones in pain, which is why we offer a range of treatments to address dental problems and help young smiles feel and function their best. In some cases, that involves pulp therapy in Garland. This advanced procedure can preserve damaged teeth and play a role in promoting proper oral development. Read on below to learn more about this treatment.
What Is Pulp Therapy?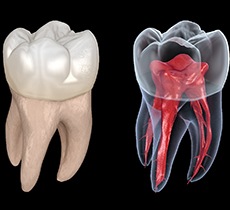 Pulp therapy may also be referred to as a pulpotomy or pulpectomy. It focuses on treating the pulp inside a tooth, which is the soft part beneath the tooth's outer layers that contains nerves, blood vessels, and connective tissues.
When decay or damage to a tooth reaches the pulp, pulp therapy may be required. During the procedure, a pediatric dentist in Garland removes the pulp from the tooth's interior. However, during a pulpotomy, we do not remove all of the pulp. Rather, we remove only the portion of it that is above the gumline. We do not remove the pulp from the tooth's root. A pulpectomy is different because during it, we do remove pulp from the root.
In some ways, pulp therapy is similar to root canal therapy. However, pulp therapy is more conservative and does not involve replacing the removed pulp with a permanent filling. Rather, it may involve the use of a temporary filling material that will be absorbed by the body as time goes on.
How Is Pulp Therapy Performed?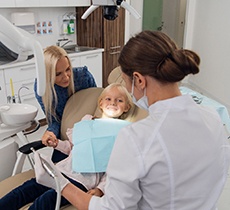 During the procedure, we strive to make our patient as comfortable as possible, often through anesthesia as well as sedation. Once your child is settled in, we begin treatment. We use special tools to access the tooth's interior and remove the damaged pulp. We then fill in the tooth to help it maintain its strength and structure. We do not typically place a crown over a tooth that has undergone pulp therapy (this fact marks another difference between pulp therapy and a typical root canal treatment).
When Should a Child Undergo Pulp Therapy?
Pulp therapy can be performed on both baby teeth and permanent teeth. It is typically used on baby teeth to prevent their premature loss; if they are extracted too early, it can interfere with the alignment and development of the permanent teeth that follow. When it is performed on permanent teeth, it is usually regarded as a temporary measure to reduce pain before a full root canal can be performed.
Some signs that your child might benefit from pulp therapy include:
Visible damage to a tooth
Pain and sensitivity
Swelling in the cheek or jaw
Tenderness around a tooth
Also, keep in mind that pulpotomies are reserved for teeth that do not have any abscesses. If an abscess is present, extraction or full root canal therapy may be the best course of action.
Would you like to learn more about pulp therapy and how it might benefit your young one? Contact your dentist for children in Garland today. Our team looks forward to speaking with you.