Office Hours
9:00am - 5:00pm
9:00am - 5:00pm
10:00am - 6:00pm
10:00am - 4:00pm
9:00am - 1:00pm
By Appointment Only
Dentistry for Children - Garland, TX
Helping Kids Ages 9 to 12 Stay Healthy & Happy
When children enter into grade school, their world opens up and their sense of independence blossoms. Hanging out with friends, participating in clubs, making good grades – with all of these new priorities in place, it's important for parents to not forget about keeping those pearly whites safe and clean. At Shiny Smiles Pediatric Dentistry, Dr. Lily loves working with adolescent children and helping them maintain the good oral health habits that have hopefully already been developed in their infant and toddler years. As their baby teeth start to fall out and the adult teeth take their place, our team will be here every step of the way.
Children at this stage of development should now be fully capable of brushing and flossing alone without Mom and Dad. However, it's a good idea for parents to keep monitoring their routines and making sure their toothbrushes get plenty of regular use. During their checkups, Dr. Lily will also start monitoring for more advanced concerns, such as the presence of orthodontic problems, tooth decay, or the need for a custom-made oral appliance. To get started with an appointment here in Garland, contact us today!
Dental Checkups & Cleanings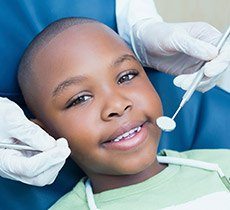 Parents should plan to bring their child in for checkups. During these visits, Dr. Lily can take a very close look at every aspect of their developing smile, including each tooth (both baby and adult), their jaw, their bite, the gum tissue, any existing restorations like fillings, and more. By forming a comprehensive understanding of their current oral health, we can recommend any important treatment with 100% clarity.
Additionally, a professional cleaning will get rid of harmful bacteria and plaque, leaving their happy smiles feeling clean and polished!
Learn More About Dental Checkups & Cleanings
Dental Sealants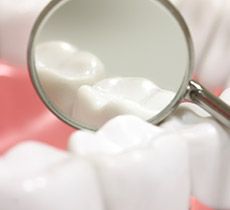 Many people don't realize that an overwhelming number of cavities in children occur on the back teeth – also known as the premolars and molars. Children often struggle with keeping these parts of the mouth clean because they're hard to reach with a toothbrush and floss. Thankfully, dental sealants can provide some invaluable assistance. The sealant comes in the form of a tough, plastic-based substance that is painted over the chewing surfaces of these teeth and then hardened in place. Their presence will prevent food particles and decay-causing bacteria from nestling in the pits and grooves and causing harm.
Learn More About Dental Sealants
Oral Cancer Screening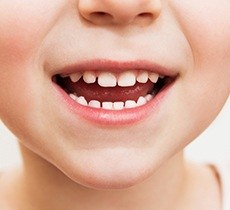 Oral cancer may be rare in children, but it's not unheard of, particularly if there are other health problems present or if they are genetically predisposed. In order to keep our young patients safe, Dr. Lily will perform an oral cancer screening as a part of their regular checkups and cleanings. This will involve taking a closer look at their oral tissues for any suspicious signs of cancerous cells, such as discolored spots, slow-healing sores, or strange crusts and lumps.
Fluoride Treatments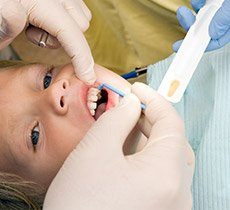 You can find fluoride in various foods, oral hygiene products, and even (most likely) the water in your kitchen tap at home. Why is that? The benefits are clear – a safe amount of exposure to fluoride in everyday life actually makes teeth stronger and safer from cavities, especially for children whose teeth are still developing. If our team determines that your son or daughter could benefit from some extra fluoride, we offer supplements here in-office for an extra boost of health.
Silver Diamine Fluoride (SDF) treatment is available as well, which can actually be used to treat teeth with cavities and help preserve their remaining structure.
Learn More About Fluoride Treatment
Nightguards/Sportsguards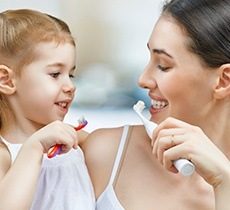 High-quality, custom-made oral appliances are available for patients at Shiny Smiles Pediatric Dentistry who need some extra protection. For instance, Dr. Lily may recommend one if we discover that your son or daughter struggles with bruxism (teeth grinding); the device (also known as a nightguard) will protect their teeth as they sleep easy by preventing dangerous contact. Alternatively, sportsguards are important gear for burgeoning athletes and are highly recommended if their chosen activity features any physical contact.
Tooth-Colored Fillings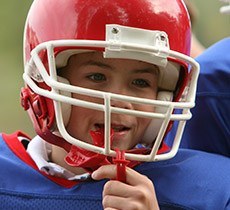 Dr. Lily and her team work hard to prevent cavities at all times in our special patients, but unfortunately, these methods can't be 100% foolproof. If tooth decay does rear its ugly head, we'll fix it with a modern, tooth-colored filling. Tooth-colored fillings are crafted from flexible composite resin, which can be precisely shaded to match their natural enamel. Once in place, it's likely that your son or daughter will be unable to tell where their natural tooth ends and the filling begins. They're also metal-free, which means that they're safe and very comfortable within the mouth.
Pulp Therapy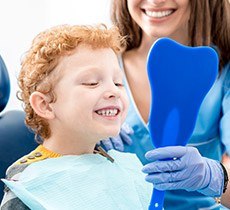 Every natural tooth has a squishy inner pulp at the center, and here, you'll find nerves, tissues, and blood vessels. Unfortunately, a serious dental injury or advanced tooth decay can sometimes expose this area to infection. In this dire situation, Dr. Lily will recommend pulp therapy to rescue the tooth. She will remove the diseased portions of pulp from within the tooth while leaving what remains as intact and stable as possible.
Extractions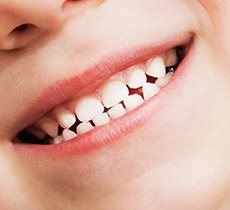 Tooth extraction is never our first choice for treatment here in Garland, but it can become an unfortunate necessity in certain cases – for instance, if your child has experienced a serious dental injury or needs to make room for impending orthodontic treatment. No matter what the circumstances are, parents can rest assured that our team will handle the procedure smoothly and comfortably at every stage. Sedation dentistry is available upon request to keep children calm and at ease as well.
Frequently Asked Questions - Children's Dentistry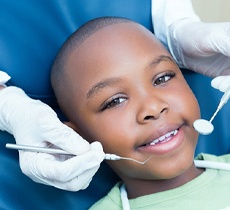 Finding the right children's dentist in Garland should lead you to an individual who understands and is trained to help young smiles grow and develop. Fortunately, at Shiny Smiles Pediatric Dentistry, Dr. Lily knows exactly what it takes to keep your little one's teeth, gums, and bite moving in the right direction. But we do understand that as a parent, you probably have many questions about pediatric dentistry and your child's oral health, which is why we've compiled some of the most common questions asked by parents below. If you do not see yours listed, please feel free to call and schedule an appointment with Dr. Lily to discuss further.
Are my child's baby teeth important to their overall health?
Absolutely! While it is true that these teeth will eventually just "fall out," the reality is that they need to remain firmly in place as long as possible. Should tooth decay or gum disease develop early on and remain untreated, it can raise your child's risk of losing their baby teeth and creating significant problems for their permanent teeth. These primary teeth serve as placeholders, allowing adult teeth to move into place when the time is right. Should a baby tooth fall out too early, it can cause nearby teeth to shift out of alignment, making it difficult for adult teeth to erupt. To avoid problems with decay, cavities, and misalignment, regular oral hygiene habits practiced at home as well as maintaining six-month dental checkups and cleanings with Dr. Lily should be the normal routine.
Why is it important for a child to see the dentist at an early age?
Apart from the common occurrence of cavities at a young age, the way their smile grows and develops should be monitored closely by a kid's dentist in Garland early on. Because the health of a child's smile can largely impact the functionality of adult teeth, gums, and oral health, it is imperative that you schedule your child's first dental appointment when their first tooth erupts or by the time they reach the age of 1. This will allow us to not only establish a long-lasting relationship with them but also help mitigate any possible dental phobias they might develop in the future. Not to mention, the benefits of starting them on the right path to better oral health.
Does my child need X-rays?
Yes, dental X-rays are a pivotal part of your child's dental checkup. It is during these visits that Dr. Lily can easily view the area beneath the gums and determine if any problems are developing that can pose a risk to your child's smile. While you may feel apprehensive about your child undergoing dental X-rays, you'll be pleased to learn that traditional film is no longer used. Instead, we use digital X-rays that emit up to 80% less radiation, making them much safer while producing higher-quality images for improved accuracy.
What should I do if my child has a toothache?
If your child develops a toothache, it is usually because there is something lodged between their teeth or an infection has developed inside the tooth that needs immediate attention. If you discover there is nothing lodged between their teeth, make sure to contact our office as soon as possible to alert us to the situation. After learning more about your child's toothache, we can schedule a time for you to bring them in to see Dr. Lily for treatment. It may be that a cavity has formed and is causing discomfort, or bacteria have reached the innermost layer of the tooth (the pulp) and are causing immense pain that only pulp therapy can remedy.
While waiting for your child's appointment, offer them a child-friendly over-the-counter pain reliever (being mindful of the appropriate dosage) and cold compress to minimize discomfort and reduce any potential swelling.
Should I worry about thumb-sucking?
It is normal for infants and toddlers to suck their thumb as a way to comfort themselves when feeling overwhelmed. However, the longer this non-nutritive habit continues, the greater the chances it will lead to serious oral health problems. If your child is still sucking their thumb by the time they are four years old, you'll need to look for ways to break the habit. Fortunately, Dr. Lily can work with you and your child to establish positive and gentle techniques that will have them opting for more appropriate coping mechanisms and reducing their risk for developing an overbite or other orthodontic problems that can occur as a result of thumb-sucking.