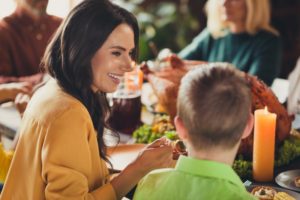 Every child is unique, but there's one thing your son or daughter probably has in common with all of their peers: they like to eat. As children grow, they tend to get hungry in between meals, which leaves many parents reaching for sugary and unhealthy foods out of convenience. That's why a children's dentist in Garland has prepared a list of the top 3 mouth-healthy snacks you can serve your kids! Read on to learn how to keep your little one's stomach full and smile cavity-free!
#1. Yogurt
Yogurt is fun and easy for kids to eat but it also is a great source of protein and calcium. Protein provides your kids with the energy they need, however calcium does the important job of strengthening their enamel—the protective layer of their smile. Just avoid serving your children yogurt that is high in sugar, chocolate or other sweets. If your child needs a little bit of sweetness, try drizzling some honey on top of their yogurt to make a delicious snack—this may even be something you'd like to eat with them!
#2. Popcorn (Surprise!)
You may think of popcorn as an unhealthy junk food, but it's actually a nutritious whole grain! As long as you don't top your popcorn with a variety of unhealthy items like candy or sweets, this is a great snack your children will love to eat. For some extra flavor, you can sprinkle a tiny bit of parmesan cheese. Just be sure to help your son or daughter floss after eating popcorn because the kernels can often get lodged in between teeth.
#3. Ants on a Log!
If you don't know what ants on a log is, well spoiler alert: it's not real ants. This child favorite is easy to make, a delight to eat, AND it's great for the teeth. Ingredients include celery, peanut butter, and raisins. You simply smear some peanut butter onto a stock of celery (the log) before adding raisins (the ants) on top.
What makes this snack so great? For starters, it's visually appealing for kids. However, the much more important benefit is that celery is incredibly good for teeth. It's like a natural toothbrush that scrubs away plaque and food debris while also stimulating the saliva flow. Plus, serving your loved ones some ants on a log will make it more likely for them to eat celery on their own as they grow older.
Ready to help your kids smile with some healthy snacks? Keep these suggestions in mind when your little one's stomach starts growling!
Meet the Dentist
Dr. Lily is a Board-Certified Pediatric Dentist in Garland who has a passion for helping young patients achieve a great looking and feeling set of teeth. She offers fluoride treatment to protect your child's smile from cavities as well as tooth-colored fillings if your healthy snacks don't always work out! For any questions, she can be reached through her website or by phone at (469) 925-0861.