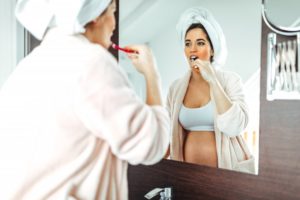 After a fun (but exhausting!) day of sharing the exciting news with your loved ones, you settle into bed and pick up one of your many books on what to expect during pregnancy. A few chapters in, your eyes start to get heavy. As you place the bookmark against the page of the next chapter, you contemplate whether getting out of bed to brush your teeth is worth sacrificing the comfortable position you've found. But before you can complete the thought, your eyes are closed and sleep is well underway.
As a mom-to-be, even small tasks can take a tremendous amount of effort to complete. However, it is important to remember that your oral care during pregnancy directly affects your baby. Read on for common dental issues pregnant women experience as well as tips from a pediatric dentist on keeping your dental health in tip-top shape.
3 Common Causes of Dental Issues During Pregnancy
Eroded enamel from morning sickness – When the powerful acids in your stomach are introduced to your mouth, it can weaken your tooth enamel and leave you vulnerable to cavities.
Tooth decay from frequent snacking – Growing your little one requires an immense amount of energy, which can leave you feeling ravenous. However, frequently snacking on crunchy, sugary, or hard foods can continually expose your teeth to acids, which can lead to significant tooth decay.
Hormonal changes can impact your gums – Unfortunately, changes in your hormones can lead to a condition called pregnancy gingivitis, which can result in irritated, bleeding, or inflamed gums. If neglected, it can lead to a more advanced stage of gum disease called periodontitis.
How Your Oral Health Affects Your Baby
During pregnancy, harmful bacteria from the mother's mouth can enter the bloodstream and travel directly to the uterus. Unfortunately, this can lead to the production of prostaglandins, which are chemicals that can induce premature labor. Therefore, it is crucial to visit your dentist in the early stages of pregnancy for a thorough dental examination, treatment, and professional cleaning.
5 Tips for Dental Care During Pregnancy
To protect your teeth and gums from issues related to pregnancy, it is important to prioritize prevention. While priority number one is speaking directly to your dentist, you can use the below tips until your next visit:
Take your time brushing your teeth to avoid triggering feelings of nausea.
Consistently floss to prevent plaque from building up.
Sip on water throughout the day to remove food particles and debris.
Avoid frequent snacking.
Always complete your oral care regimen in the morning and at night.
Growing your little one is a magical chapter of your life. To ensure that your baby's health is protected, make sure to prioritize your oral hygiene routine!
About the Author
After earning her doctorate at Western University of Health Sciences in Pomona, CA, Dr. Lily obtained her Advanced Education in General Dentistry certification at the Lutheran Medical Center in Brooklyn. She also completed her pediatric certification at the University of Nevada in Las Vegas before becoming a board-certified pediatric dentist. Today, Dr. Lily uses her extensive experience and genuine passion for her craft to deliver world-class care and high-quality dentistry. If you would like to speak with her about improving and protecting your oral health during pregnancy, don't hesitate to visit her website or give her a call at 469-925-0861.