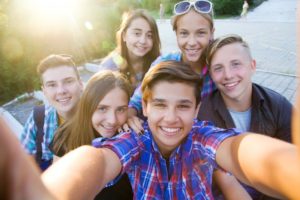 Is your teenager excited about summer vacation? It's the perfect time of year for your son or daughter to enjoy warm weather sports, outdoor activities with friends, and some time to relax. However, their fun in the sun could suddenly be cut short by a trip to your emergency dentist if they don't remember to protect their growing smile. Here are six tips from your Garland dentist to help your teen protect their sunny smile all season long.
Tip #1: Make a Dental Emergency Kit
While we should do everything we can to prevent dental emergencies, accidents are bound to happen. Whether your teen takes a fall while riding their bike or bites down on a hard popcorn kernel, it's a good idea for them to have a dental emergency kit that contains:
Your emergency dentist's phone number.
Gauze, cotton balls, and/or a handkerchief.
A small container with a lid.
Saline solution.
Aspirin-free over-the-counter pain relievers.
Tip #2: Enjoy Summer Sports Safely
Even if your son or daughter is simply enjoying a game of soccer or football with friends, a sudden injury like a broken tooth or fractured roots can still occur. If your teen plans on being active this summer, remind them to wear their custom-fit sports mouthguard to keep their smile safe.
Tip #3: Enforce Pool Safety
Swimming pool accidents are the main cause of dental emergencies this time of year, and some of them can have severe consequences. If your teen is headed to the pool this summer, remind them the importance of following rules like:
No running by the pool or on any wet surfaces.
Don't jump or dive into any area of the pool except the deep end.
Always be aware of how close you are to the concrete ledge of the pool.
Tip #4: Offer Healthy Summer Snacks
Unfortunately, the abundance of ice cream, soda, and other sugary snacks makes summertime tooth decay a real issue. Instead of stocking up on unhealthy treats, encourage them to eat healthier foods that can improve their oral health, like calcium-rich snacks and great sources of vitamin C.
Tip #5: Remind Them to Keep Up Their Dental Routine
While your son or daughter may be looking forward to taking it easy on their summer vacation, it's important that they continue to keep up a thorough dental routine that includes:
Brushing for a full two minutes twice a day.
Flossing between all their teeth daily.
Rinsing with an ADA Approved mouthwash regularly.
Tip #6: Schedule Their Dental Checkup
It may not be the first thing that comes to mind, but summer is a great opportunity to schedule your teen's biannual dental checkup. Visiting their dentist once the school year is over can ensure that no dental issues pop up while you're away on your family vacation.
Don't let a preventable dental emergency ruin summer vacation. Remember, the tips you teach your son or daughter now can help their smile stay happy and healthy for a lifetime.
About the Author
At Shiny Smiles Pediatric Dentistry, Dr. Lily provides a variety of treatments for children of every age in Garland, TX, including teenagers. Whether they need a custom sports mouthguard, a tooth extraction, a simple cleaning, or urgent dental care, she and her talented team can ensure their appointment is as comfortable as possible. If your son or daughter experiences a dental emergency this summer, don't hesitate to contact her via her website or at (469) 925-0861.