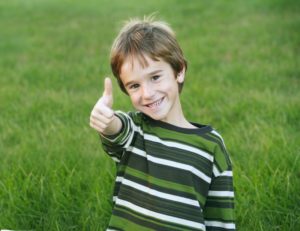 To keep you and your loved ones safe and healthy while receiving dental care during the coronavirus pandemic, numerous precautionary measures have been implemented at your pediatric dentist's office. While some infection protocols like instrument sterilization happen behind the scenes, practices like removing the magazines, toys, and several chairs from the reception area are easier to notice. When you come in for your little one's smile care, dental safety starts off with a no-touch way to say hello to your dental team. Here are nine creative contactless greetings you and your family can try when visiting your Garland pediatric dentist during the COVID-19 pandemic.
1.) A Friendly Wave
If you or your child are a hugger, saying "hello" in the age of social distancing may feel incredibly strange. But remember, a friendly wave is a classic greeting that shows how much you care!
2.) Bow
In Japan, bowing is a common way to say thank you, I'm sorry, hello, and goodbye. A quick bow is a respectful way to start or end a conversation.
3.) Namaste
Namaste is a salutation used throughout Southeast Asia to signify respect and gratitude. To practice this gesture, press your palms together at your heart and bow your head slightly.
4.) Footshaking
You may not be able to shake hands right now, but you can "shake" feet! You can try greeting someone by tapping each other's feet together—just be careful not to lose your balance.
5.) Hand Over Heart
Another greeting that has recently been demonstrated by WHO Director-General Tedros Adhanom Ghebreyesus is placing your right hand over your heart, indicating genuine happiness to meet someone.
6.) Shaka
From surfers to cab drivers, the shaka is a laid-back way to say hello that originated from the Hawaiian Islands. To create a shaka, make a fist and extend your pinky and thumb.
7.) Blow a Kiss
Blowing a kiss is a playful way to say hello or goodbye. However, just be sure you don't touch your fingers to your lips or throw spittle at whoever you're greeting!
8.) Air High-Five
Just because you can't make physical contact doesn't mean you can't give someone an enthusiastic air high-five. Simply stop short before your hands touch to keep you both safe and healthy.
9.) Just Say Hello
Saying hi doesn't have to be complicated. Verbally communicating your hello or goodbye is a classic, sincere method of showing someone you care about seeing them.
The COVID-19 pandemic may have changed many aspects of our everyday lives, but it hasn't changed the importance of a heartfelt hello! Keep yourself and others safe, healthy, and happy by trying some of these touch-free greetings during COVID-19.
About the Author
At Shiny Smiles Pediatric Dentistry in Garland, TX, we've worked hard to create a fun and comfortable environment that keeps children and their parents in mind. Typically, Dr. Lily and her team show this with convenient hours, exciting reception area, and advanced dental technology. In these unusual times however, they've shifted their focus to implementing even more measures to keep you and your family safe and healthy when in the office. While these precautions may change the way your child's dental appointment look, you can still expect the same friendly and excellent smile care your little one deserves. If you'd like to know more about our commitment to safety, feel free to reach them via their website or at (469) 925-0861.