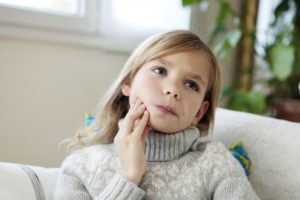 It's bad enough when you experience a toothache but when your child is dealing with throbbing pain, they may not understand why it's happening or what to do about it. With the spread of COVID-19 keeping most people indoors, you may not want to take a trip to your local drug store to buy something that can help, so what can do you? Take a few minutes to learn what at-home remedies can be used to help relieve your child's discomfort until you're able to get them in to see an emergency dentist. You may be surprised how many are already in your pantry!
Why Can't I Take My Child to the Emergency Dentist?
Unfortunately, COVID-19 has caused most dental offices to close. Many are only seeing patients dealing with severe emergencies. While your child's toothache might seem severe because of the pain they're experiencing, staff will likely recommend trying to treat the problem at home until it is safe to reopen to all patients.
What At-Home Remedies Can Be Used?
If you open up your pantry or cabinets, you may discover that you have many of the following items that can help your little one. No one wants to see their child in pain, so to give them the relief they need, try using these helpful items:
Clove Oil: Pour a few droplets onto a cotton ball and place it onto the tooth in question. This will help to numb it and decrease discomfort.
Saltwater: Dissolved 1 teaspoon of salt into a boiling pot of water. After allowing it to cool, have your child swish it around in their mouth for 30 seconds. This will cleanse their mouth and reduce pain. It is only advisable to use this if your child is old enough to spit the contents out.
Hydrogen Peroxide: If your child is old enough, allow them to swish hydrogen peroxide around in their mouth before having them spit it out. This will temporarily relieve pain.
Ice Pack: Whether you use an ice pack or cold compress, wrap it in a towel and place it against the area for 15 minutes. This will help to numb the nerves causing the pain.
Tooth Sensitivity Toothpaste: If your child's tooth is creating a painful feeling after they eat or drink anything hot or cold, try giving them a tooth sensitivity toothpaste. It may be that the dentin layer of their tooth is exposed, which is causing sharp pain.
By using these tips and regular household items, you can better help your child achieve the relief they need, even if it's only temporary. If the pain is severe enough, their pediatric dentist will work to get them in as quickly as possible to prevent worsening damage from occurring.
About the Author
Dr. Lily Hoang is a board-certified pediatric dentist and parent. She achieved her doctorate at Western University of Health Sciences in Pomona, CA before going a step further and finishing her Advanced Education in General Dentistry certification at the Lutheran Medical Center in Brooklyn and her pediatric certification at the University of Nevada in Las Vegas. Dr. Hoang and her team want what is best for your child, which means helping to instill good oral hygiene habits from an early age. To learn more about us and how we can help you take better care of your child's smile while at home, visit our website or call (469) 925-0861.