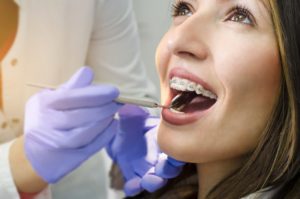 As your teenager begins to send out their college applications, they might seem all grown up to you. You might feel like it's high time to send them to a dentist for adults. However, Dr. Lily, your local dentist for teens, will be more than happy to see your child from ages thirteen through nineteen. Having to see a brand-new dentist while navigating the highs and lows of high school can be a bit of a challenge on top of everything else. Why not make it easier on your child by sending them to a pediatric dentist? Here are just a few of the services offered at Shiny Smiles Pediatric Dentistry.
Mouthguards for Young Athletes
If your teen plays sports, they should be protecting their pearly whites at all costs. Not doing so could result in their teeth getting broken or even knocked-out, which can be severely painful and expensive to treat. To prevent this, Dr. Lily can take an impression of your teen's teeth to design a mouthguard. This durable plastic tray is worn over the teeth to protect them against injury due to impact. Won't you feel much better on the sideline knowing your teen's smile is protected during the big game?
Fluoride Treatments to Prevent Cavities
Fluoride is a mineral that occurs naturally in most water sources. It also strengthens teeth, more effectively defending them against cavities. While it's common to apply fluoride varnish to younger children's teeth, your teen can definitely benefit from it too. After your teen's regular cleaning, your dental hygienist can paint your teen's teeth with a layer of fluoride that provides an extra boost of protection against decay.
Tooth-Colored Fillings for Seamless Cavity Repair
Teens can be incredibly self-conscious about their image, which is why they almost definitely don't want to get a silver or gold filling to heal their cavities. Luckily, Dr. Lily offers filling material made from a composite resin. This substance can be customized to blend in with your teen's existing tooth enamel, so that no one has to know they even got dental work done!
Just because your teen is almost an adult doesn't mean they have to stop seeing their pediatric dentist. Come see Dr. Lily for a kind, gentle dental experience for all kids!
About the Author
Dr. Lily is a Board-Certified dentist for teens and younger children. Her professional memberships include the American Academy of Pediatric Dentistry, the Southwestern Society of Pediatric Dentistry, and the Texas Academy of Pediatric Dentistry. If you're looking for a dentist for your teen and you live in the Garland, TX area, feel free to give Dr. Lily a call at (469) 925-0861.